(Last Updated On: March 6, 2023)
Director Vivek Athreya and Nandini Reddy apologized for their alleged defamation of the KGF 2 and commercial cinema in an interview. Vivek Athreya said that he never intends to belittle or demean someone's work, whether it is a commercial film or other. He said that he was just reacting the way it was said in the interview.
A round table interview with filmmakers – Nandini Reddy, Indraganti Mohana Krishna, Shiva Nirvana, Vivek Athreya and Venkatesh Maha was held by a YouTube channel.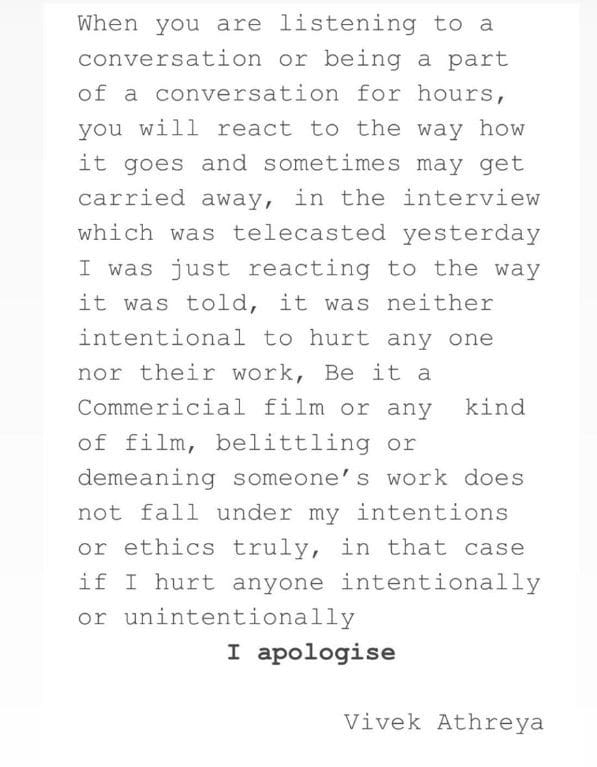 In the interview, Director Venkatesh Maha who is renowned for movies like C/o Kancharapalem and Uma Maheswara Ugra Roopasya, gave some controversial statements about KGF Chapter 2 and Yash's Rocky character. He continued by calling the protagonist, Rocky Bhai, performed by Yash, Neech Kamin Kutte.
Sounding unsettled while narrating the same, the director-turned-actor said he felt ridiculous when the protagonist's mother wants him to get all the gold and become rich with the help of people in KGF by hardly giving them anything in return. While the remaining directors in the show, Vivek Athreya, Indraganti Mohana Krishna and Nandini Reddy were seen laughing at Venkatesh Maha's mimic expressions while mocking KGF 2.
However, Twiteratti went berserk post Maha's statement went viral on social media. Many Social Media users and netizens said that first he should respect the fellow filmmaker and should have basic common sense rather than ranting on one's success.
Meanwhile, Nandini Reddy was the first one to react to this controversy who took to Twitter and apologised if her behavior had hurt anyone, and she told she didn't intend to belittle KGF 2 and the idea was to have a positive debate on what can diversify the narrative of commercial cinema.